Be still, and know that I am God. -Psalm 46:10
About 80 women came together at Camp Tecumseh from November 1-3 to PAUSE. Some stayed overnight; some decided to enjoy the comfort of their own beds and drive back to camp each day. Both choices allowed for effective PAUSE that included fellowship, worship, prayer, learning and fun.
The weekend started on Friday evening with worship. The songs were carefully selected to support the retreat theme of PAUSE and for us each to be reminded that we are loved dearly by our ever-present God.
We had a very engaging speaker, Kristan Dooley, who presented throughout the weekend starting Friday evening and ending Sunday morning just prior to our ending communion service. The guiding scripture for her teaching was John 15. Below are some of the key points she shared with us to reflect upon:
If you are centered in Christ, your circumstances will not dictate your life; Christ will.
When we find ourselves feeling we are at our end, we find we are then at the beginning of God.
Awareness (when we experience that the Lord is good), alignment (when we walk "in step with the Spirit"), and action (when we build "muscle" of surrender and obedience) are all needed for us to mature in Christ
We cannot become self-aware while busy, grumpy, tired, etc.
Jesus was compassionately curious in His ministry. He did not give advice - His ministry was filled with asking questions.
Life as a Christ-follower is a marathon; it is important to stay focused through our various life and human cycles in order to keep our obedience and faith moving in a life-long forward direction.
God is always present and at work, even in the midst of "bad." There is always good news in each situation; it might be sometimes hard to find, but know that it is there. Search for Him in all circumstances. This search and finding Him leads to joy.
Jesus is full of grace (He is with us, even the midst of our sin) and is unwavering truth.
We cannot "out-care" God. Everything we care about, He cares about it more. Surrender is only hard if we believe we care more than God cares.
Throughout the retreat, we experienced PAUSE moments where we learned new tools of prayer. Some of these tools included "Breathe In, Breathe Out" practice - breathe in while saying or thinking "Be Still," and breathe out while saying "and know that I am God." We assembled our own prayer beads and learned some sample ways to utilize them to enhance prayer. We were given a hand-held prayer labyrinth and learned how it symbolizes the journey of the Christian life.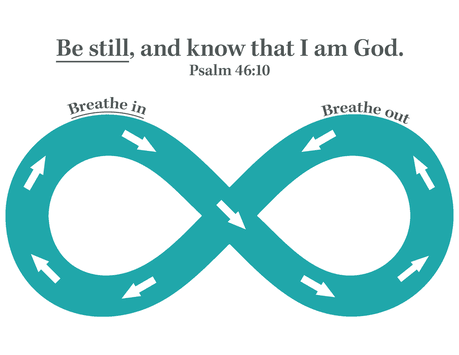 Saturday afternoon was unstructured time. Each woman was able to find her individual PAUSE activity. Some painted signs to take home as a reminder of the retreat's guiding scripture "Be still, and know that I am God." Others took a walk through the beautiful camp setting. Some took naps or read. Some even participated in the camp activity of riflery and archery. There was definitely something for everyone.
Throughout the entire retreat there was lots of prayer, lots of woman-to-woman support and care, great food, and lots of games and laughter. Prayers were answered as each woman who was asked "would you..." said yes, starting from the time of initial retreat planning months in advance to the conclusion of our time together on Sunday. Thank you to everyone for sharing your talents in many ways for this retreat to be meaningful and successful.
​
We definitely missed Kate Cogswell while she was with family as they honored her beautiful mother Bonnie who had passed earlier in the week. Because of the many women who contributed their talents and time, Kate was able to be fully present with her family.