In 2006, I began to feel God calling for ECC to minister at Miller Elementary School. At that time, Miller was in the news a lot, and they were having trouble with low test scores, attendance, and similar issues; 93% of the school's population qualified for free or reduced lunches. In the Spring of 2007, Pastor Stacey, Pastor Todd (Kussman), and I approached then principal, Rick Barnhart, about possibly having volunteers from ECC come into the school to help in some way. Rick indicated that it would be great if we could help during the lunch recess hours.
In the fall of 2007, our ministry at Miller began, and God has given us various opportunities over the years. What began as helping during lunch recess brought opportunities to volunteer in classrooms, help in the library, mentor children, host meals for Miller families, host Back to School carnivals, host Spring Carnivals and pancake breakfasts with an Easter egg hunt, pack backpacks with food for families in need, and support the Miller staff in various ways. We also host our annual Vacation Bible School at Miller and have an afterschool ministry for children that attend the school. God has blessed us in many ways in the past 14 years as we have followed His lead.
In March of 2020, our ability to go into the school changed but God has continued to show us ways to minister to the Miller community. Beginning in March and throughout the summer, ECC volunteers and Miller staff joined together to deliver hundreds of bags of food to Miller families. In August, we co-sponsored the "Car"nival to welcome students back to school. Every Thursday, we invite Miller families to come pick up meals at Bauer from our Thursday night meal.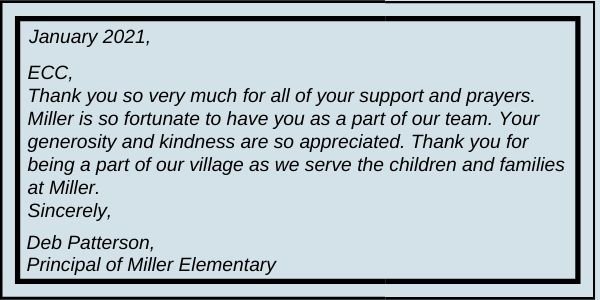 Right now, things look a lot different as far as being able to be physically in the school building. One way we are still able to support the Miller staff is through our prayers and encouragement. We have given the staff gift cards several times this school year. I'm praying about how else we can support the staff as they teach and work with the children during this incredibly difficult season. If you have ideas of ways to bless the Miller staff please feel free to email me at rooms@ecclife.net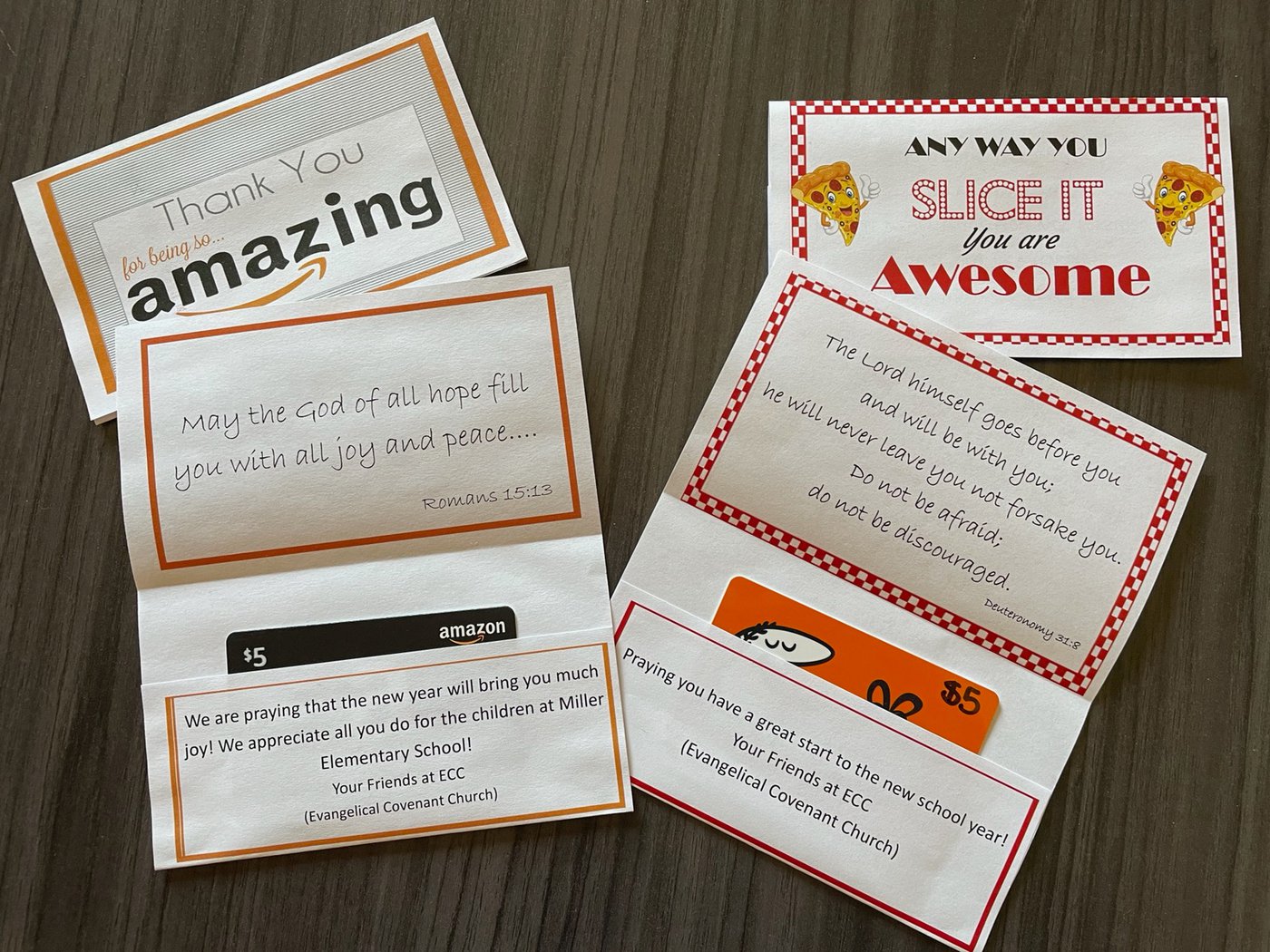 In addition to the encouragement we can give, an easy way to support Miller School is to pray for them regularly. Below is a simple prayer that you could pray each day.
---
A Simple Prayer For Miller Elementary School
Dear God,
Thank you for Miller School. We pray it would be a safe place of learning, fun, and friendship. Please watch over all the teachers, staff, children, and families and protect them from the virus and other illnesses.
Help them as they learn new things and give them patience and wisdom. Help them to be encouraged and to find joy in the midst of the unknown of this year.
Help them to have love for each other, to have forgiveness in their hearts, and to build kindness into every day.
Bless the Miller School community. It's in your precious name I pray.
Amen
---