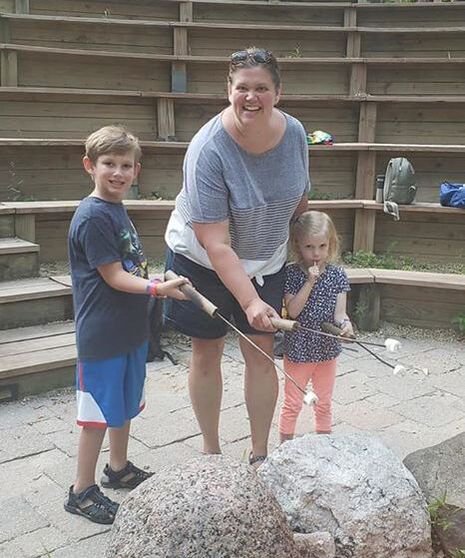 In this unusual season of life, I have welcomed different activities that bring some sort of change from the normal routine, no matter how small that change may be. When I started reading about Covenant Harbor's Family Getaway program, I caught a glimpse of how our family could change up the routine, take somewhat of a summer vacation in a relatively safe way, and bring about a change that would renew and refresh us all. We signed up for the Family Getaway from July 12-18, and we were blessed and delighted with our time away!
Camping ministry has been a part of my walk with Christ since I was in junior high, and it's taken various forms over the different seasons of my life. I love taking kids to camp, and when I realized that I could spend a week at camp with my own kids, I knew this was a chance to create some sweet and special memories with my 3 & 7 year olds.
I find that the rhythm of life at camp is so different than home, which creates this sacred space for people to interact with each other and not worry about everything that has to be done in a day. I'm surrounded by God's creation, so it's impossible not to marvel at the works of God's hands! Rather than drive from place to place, in a camp environment you get everywhere by walking. These frequent walks meant shared giggles with my son, listening to the voice of my daughter as she is learning to express herself more and more, and the holy silence of a quiet wooded area. At camp, I felt more present with my kids than I had in many of our moments at home simply because everything else drops away, and I marvel at these little people whom God has entrusted to my care.
My husband Glen wasn't able to travel with us – we are thankful that he is now working full-time, but it also meant that he didn't have any vacation time to join us. At first I was worried about traveling with the kids on my own, but when I realized that camp was going to take care of all our meals, I realized that this was a getaway I could handle! You do have to pay extra for meals each day, but breakfast, lunch, and dinner are all available. Best of all, I didn't have to wash a single dish!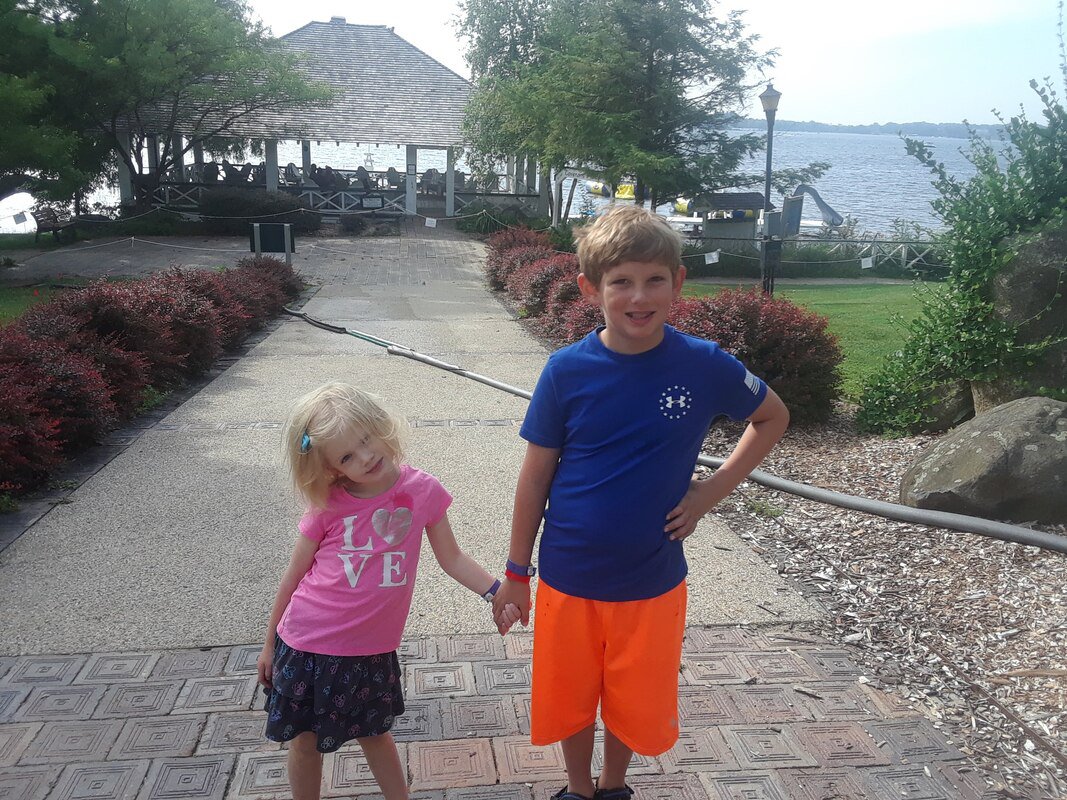 Covenant Harbor is located right on the shore of Lake Geneva, in Wisconsin, and my family took advantage of the waterfront time each day. We swam in the lake every day, Sunday through Friday, and we also took two different boat rides during the week. Eric Anderson, the current Interim Executive Director of Covenant Harbor, and his wife Cherith took us out on the lake for a short tour and a chance to swim off the boat. They welcomed each family personally throughout the week, and they are making it their mission to get each family out on a boat tour during their Family Getaway stay.
The highlight of my son's week was our second boat ride, where he rode on a banana boat for the first time! The banana boat is an inflatable tube that can seat up to 8 people and gets towed along behind a faster boat. Inevitably, it turns and hits a wave just right, and many of the riders are dumped into the lake (with life jackets on, of course). My son was terrified of going fast, so he kept giving the "thumbs down" signal for going slower. He had a blast riding at the slower pace, and was just as thrilled to join us in the motor boat and watch the others go fast and eventually get knocked into the water!
As part of the Family Getaway, we stayed in a cabin at Covenant Harbor from Sunday afternoon through Saturday morning. We were blessed to stay in one of the new Kishwauketoe cabins, or "Kish" for short. We had 12 bunks, our own private dorm-style bathroom, and a really fun loft where the kids could hang out and play. Families can stay in a cabin entirely on their own, but we chose to invite some friends along and were so glad that we did!
There is still availability for a Family Getaway time through August 13 at Covenant Harbor. While I know many won't be able to make last minute plans and head to camp in the next week, I wanted to share our experience because it's very possible that a program like the Family Getaway week will continue into the fall. Our Covenant camps weren't able to host their traditional summer programs which directly impacts their financial situation. By participating in the Family Getaway program, we can help support our camps while also changing up the rhythm and routine for our own families.
We don't know what the fall will bring. We don't know if we will have further seasons of remote school and remote work ahead of us. If your family does end up in a situation where you can work from anywhere, as long as you have internet access, I encourage you to consider spending some time at Covenant Harbor. I'll be sure to keep you informed if they add on some fall Family Getaway weeks! I'd love for you to have the opportunity to take a deep breath and enjoy God's creation, just as we did.