A whole other dimension was added to my faith journey while we were in Israel. I had heard this would be true, yet I was unable to even imagine how physically experiencing the places I had read about, walking where Jesus had walked, and travelling with fellow believers, would increase my love for God and His word.
As we sat at the garden tomb on that last day of our trip, I sensed Easter would never be quite the same for me. I had no idea how true that would be. Engaging with God's word while at the sites where these events happened rooted God's love more deeply in my heart. Physically being there deepens the connection between your head and your heart. As one of our travel companions recently shared: "It takes on a whole new level of 'real' after being there in February."
On our trip, we visited two of the suggested locations for the crucifixion and burial site of Jesus: the Church of the Holy Sepulcher and the Garden Tomb. Either may or may not be the actual site.
Our tour guide and now friend, John DeLancey, taught us about each site. On one hand, the Church of the Holy Sepulcher (inside the Old City today) has more archaeology in its favor.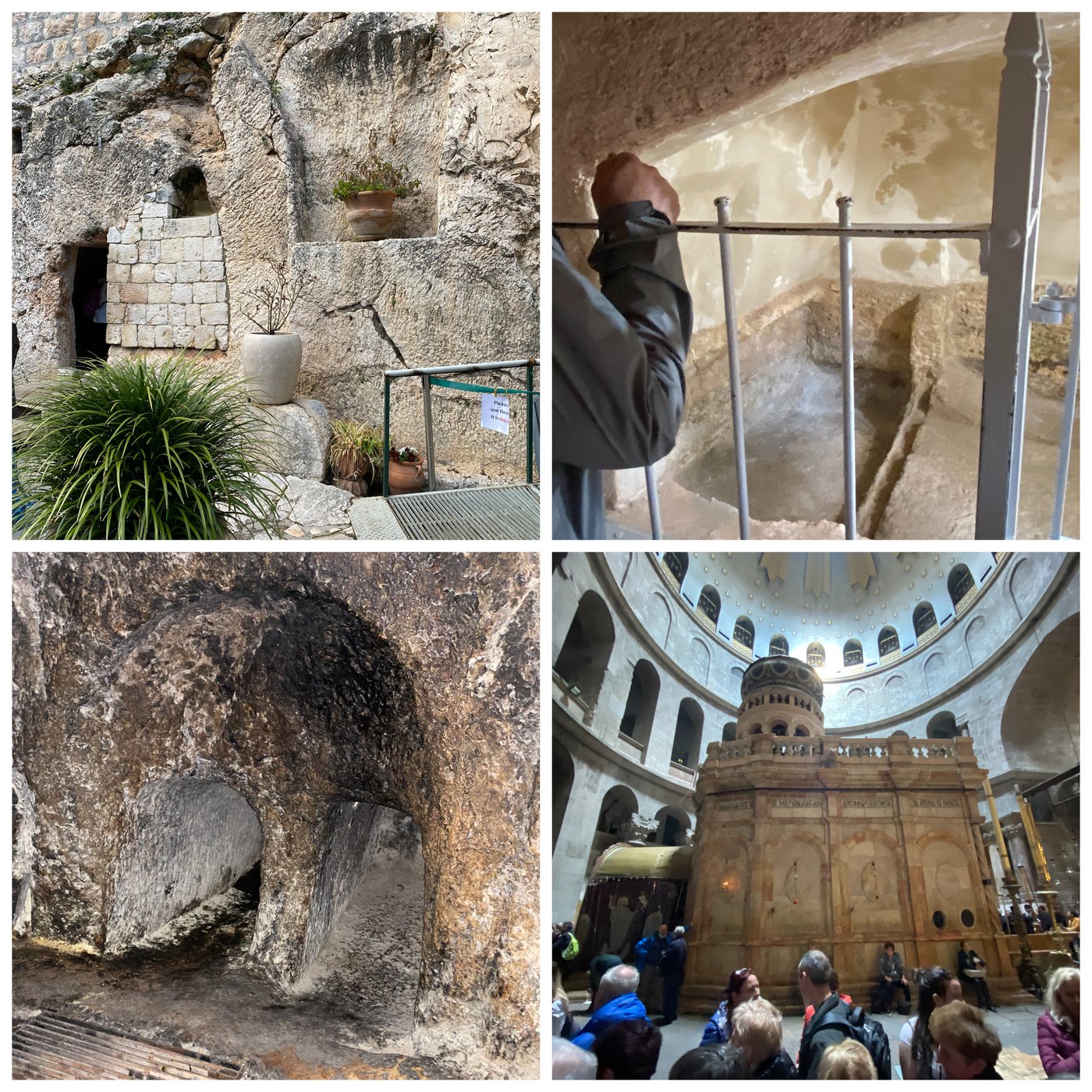 Whichever of the locations might have held his tomb or if it was somewhere else, we discovered that they had one thing in common:
They were empty. Jesus is risen and isn't in a tomb. He is alive – and that makes all the difference. We can know Him. His death and resurrection provided the Way for us to be in a transformational relationship with Him.
We worship a risen savior and not an empty tomb. We worship Jesus and not a location.
He is risen! He is risen indeed!
Admittedly our Easter celebrations looked different than any Easter we've ever had. All the traditional ways we celebrate – ways I, for one, have taken for granted – couldn't be celebrated the way we always have.
And yet, even a pandemic couldn't keep us from Easter celebration. We were still able to worship "together", I "saw" families – mine included – find ways to adapt via Zoom and appropriately physically-distanced gatherings.
Our world is different, but God is still the same! The same celebration of the fact that Christ is risen rings true all over the globe. The importance of Christ's resurrection isn't minimized by the way we celebrate it. Maybe we had space this year to really sit in the significance of Easter.
We celebrate a risen savior and not "Easter". We celebrate Jesus and not a tradition.
The beauty of Easter is that while we emphasize celebration of Christ's resurrection on this particular Sunday – the celebration isn't limited to only Easter but the Gospel truth is something we can and should celebrate beyond the designated Sunday.
Growing up, I thought Easter was a one-day celebration; however, I'm discovering in church history, many considered Easter to be a season of celebration, like Advent or Lent. Eastertide is a seven-week season between Easter Sunday and Pentecost. Maybe Eastertide holds space for us to more adequately ponder the implications of the resurrection?
This year offered vivid reminders that we don't celebrate the location, the traditional celebrations, or the day – we celebrate Jesus, His death and resurrection, and the gift of abundant life now and forever.
My prayer is that God would seal the truth of his Gospel in our hearts, perhaps in a new way this year. I pray He reminds us what his victory over sin and death means for us individually, for His kingdom, for our communities, and for the world. I pray that we take our Easter celebration into every day of our lives and into our world in a way that brings peace, hope, and joy!
He is risen! He is risen indeed!