As summer ends and fall is quickly approaching, we are excited to begin our lobby renovation project as part of our Engaging Young Adults Grant Initiative. Lots of construction and change will be happening in the coming weeks! Here is all that will be done in our lobby space:
Flooring near the West Counter and women's bathroom will be changed into an LVT glue down flooring, and you'll see 3 different kinds that complement the natural angles of that space.
The West Counter will be demolished, and the cabinets and a new countertop will be moved to the inside wall. We will be adding a sink and water supply there as well for coffee brewing and cup washing.
The purple wall beside the women's bathroom will be transformed into a wood wall with different tones of woods to tie into all the woods and colors already present in our lobby.
New wallcovering has been added to the coat rack corner by the Stephen Ministry table. Feel free to go look, as it was put up last week!
New lounge or café style furniture will be added soon after the renovations are completed.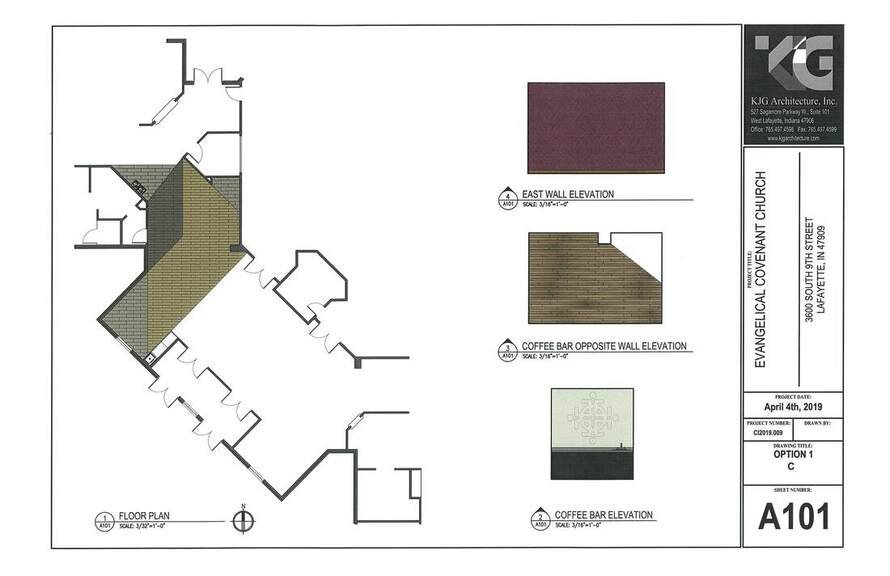 Through the design and flow of the two small spaces, we hope to provide a functional space for meetings, small groups, or a gathering between two congregants any time throughout the week. However, our primary goal with this new space will be to continue to encourage community building and conversation by providing comfortable and updated spaces for you to enjoy on Sunday mornings. We'd be ecstatic if we saw this space being used by all generations in an effort to get to know and understand each other better. With that said, feel free to reach out to a young person in our church body and ask them to have coffee or hot chocolate with you in our new space this fall and winter. If you are a young person, feel free to grab an older congregant you don't know as well and ask them to join you for conversation in our new space. Let's use this opportunity to strengthen and unify the body of Christ here at ECC!