It has been 86 days since we have worshipped together physically in our sanctuary at ECC. Who would have guessed that when we gathered together on Sunday, March 8, 2020 that we would not step inside our sanctuary for the next three months? Over these last three months that we have been separated physically, God has still been at work in and through our community. We are blessed at ECC to have an incredible team of ministry leaders, that when faced with the challenges that physical distancing presented, responded with innovation.
​
We have seen amazing things happen through the innovations that have taken place in all of our ministry areas from Sunday morning worship to our outreach ministry in the Bauer/Miller neighborhood.
God is good, God is faithful, and God is present.
On March 15, 2020 we began the new adventure of streaming our Sunday morning services. This has been something that we have talked about doing for years but the bandwidth and resources weren't there. When in-person gatherings were no longer an option, we called up Greg Louk and asked if he would help us worship with our congregation in their homes. Greg has been instrumental in our ability to bring Sunday morning worship into each one of our homes every Sunday morning! We are very grateful for the way Greg has used his gifting to help the church.
Since beginning our online services, we have seen new faces, and we celebrate that the message of Jesus Christ is being spread far and wide from the ministry happening here at ECC of Lafayette. In the last twelve weeks of online services, more than 2,000 hours of worship have been consumed on Facebook. The good news is, now that we are further along in our knowledge and skill of streaming our worship services, we will continue streaming from now on. This will be a great blessing for our community!
Over the last few weeks, we have worked with JNE Productions to get our sanctuary set up for continued success streaming our worship services. We have purchased and installed new state of the art PTZ cameras, new lighting to help illuminate the front of the sanctuary, and a lot of new electronics in the sound booth to accomplish this. We are blessed to be a church in the state of Indiana because we were able to apply for a $5,000 grant from the Center for Congregations to help pay for some of these enhancements.
This past Sunday, we were able to start using this new technology. Pastor Stacey's sermon was live from the sanctuary. We will try to transition more elements of the worship service to being live this Sunday as we prepare for our first in-person service on June 14.
Another worship related blessing that has materialized out of this COVID-19 season is a greater partnership with Riverside Covenant Church. Our congregations partnered together for our Maundy Thursday and Good Friday services, and every Sunday since then Meghan Gobrogge and Mike Tetrault have partnered to record the worship music to help lead both of our congregations into worship. This has been a beautiful partnership sharing our collective resources and spaces.
When we can't gather together physically, we have become a "zooming" congregation. Most of our ministries here at ECC have met virtually over the past three months so that we can stay connected. Our children have met together for Sunday school, our youth have gathered together for youth group, our women and men have gathered together for Bible studies and fellowship, and our Senior Adult Ministry has gathered together as well. Although these virtual gatherings cannot replace our in-person community, they have provided some connection along the way.
In addition to our regular weekly ministries, we have been innovating how to transition our Summer Vacation Bible School online as well. Last night we started a four-day Virtual Summer XPerience for our community to engage in and grow in their relationship with Jesus. Please join us in praying that this year's Summer XP would be impactful and would bring children closer to Jesus.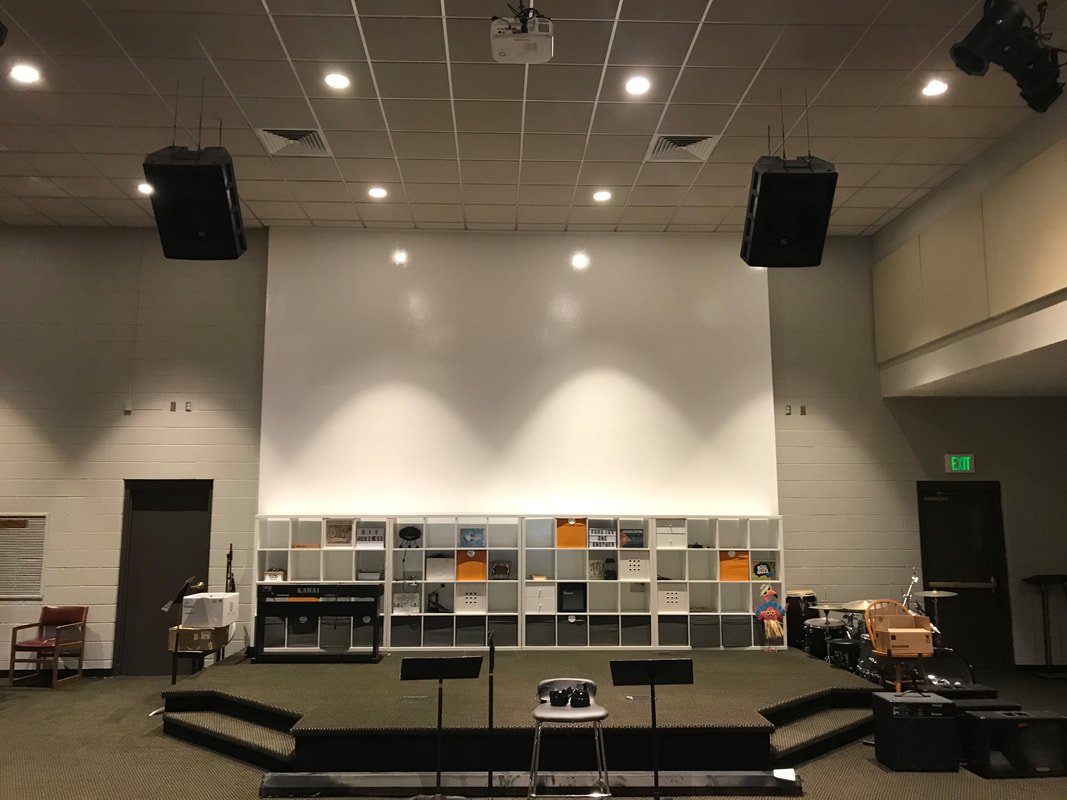 We are excited for our children and youth to be able to gather together again in the future. We are still navigating when that might be, but we have also been working in the Life Center Auditorium (LCA) in anticipation of that day. Over the past three months that LCA has been repainted and remodeled. The new color pallet is a fresh light gray with darker gray borders and we have built a new projection screen wall. The older retractable screen was taken down and a new smooth wall was built to help increase the size of our projection. This will bless not only our children and youth but our whole church for congregation meetings, as well as all of the ministries that we partner with that use the LCA. In addition to renovating the auditorium, we have also painted some of the class rooms and deep cleaned many carpets around our campus. Our custodial team wants to ensure that ECC is as safe as possible when we return to our regular activities.
Finally, our outreach ministry has been hard at work to ensure that ECC is still providing for those in need in our community. For over a decade ECC has been providing a weekly meal at Bauer Community Center every Thursday night. When the restrictions were put into place that public gatherings could not happen, Ronda Ooms and her team innovated and created an accessible drive-thru meal option.
Every Thursday night a team from ECC has handed out meals in a drive-thru model from the Bauer Community Center. The number of people being fed through this Thursday evening ministry has increased during this season and because of the innovation and heart of Ronda Ooms, ECC has been able to show up and serve. Another very cool Outreach Ministry event that happened a few weeks ago was a surprise phone call from Panera Bread. Ronda Ooms was called by Food Finders, because of our known impact and ministry in the city, and was asked if she would be able to hand out meals that have been donated by Panera Bread. Ronda agreed that we could facilitate this and agreed to take Wednesdays for 4 weeks. For four weeks Ronda was given 400 meals each week from Panera, and we were able to bless the community. This Thursday, our outreach ministry will be partnering with our Children's ministry once again to provide drive-thru meals for every Summer XP participant.
​
God is good, God is faithful, and God is present.
Although it has been 86 days since we have been able to gather physically in our church building we have seen the church at work in big ways! Sometimes we can feel overwhelmed and discouraged because of this massive disruption to our world, but we wanted to share some encouraging news about how we have seen God at work in and through ECC! Thank you for faithfully praying for our ministries. Thank you for faithfully giving to ECC. Thank you for faithfully serving at ECC. God is doing big things and we continue to follow the spirit's leading! We know with confidence the Kingdom of God is not in danger and that we can further the Kingdom even now. ​