"Commit to the Lord whatever you do, and your plans will succeed. The Lord works out everything for His own ends…..In his heart a man plans his course, but the Lord determines his steps."
Proverbs 16:3, 4a and 9
These verses have been ones that have continually come to mind during this season that we find ourselves in. We had plans for what outreach would look like this Spring. We were gearing up for our Spring Carnival and pancake breakfast at Miller. I was working with Bauer on who would take care of what events on April 4. The pancake guy was secured for our breakfast, and the Easter eggs had been mostly stuffed for the Easter egg hunt. March 13 everything changed. We quickly realized that our Spring outreach would not look anything like what we had planned.
What would God have us do? It was obvious that God had put us in the Miller/Bauer neighborhood and that they needed us now more than ever! It was an easy decision to continue the Thursday night meal at Bauer Community Center that we have hosted for the past 12 years. What could that look like, and how could everyone keep safe? We'd always created a sense of community during our meals. It was/is very important that each person that attends our meals feel loved and cared for and is able to eat home cooked food with others from the community. Because of the restrictions we knew that we could not allow anyone to come into Bauer to be served a meal. We set up a drive through in the alley by Bauer and have been serving take out style since March 19. The first few weeks, we served 175 meals and every week after we have served between 240 and 280 meals. That amount of meals is 3 times (plus) what was our normal previous to the virus issues. We work hard to be sure that each person that comes through to pick up meals or that walks up feels loved and cared for. Each week we have bags of groceries and various bonus items that they can have. Some weeks, it's toilet paper, some weeks it's cleaning products, and once a month we have homemade cookies lovingly baked by some of our ECC attenders.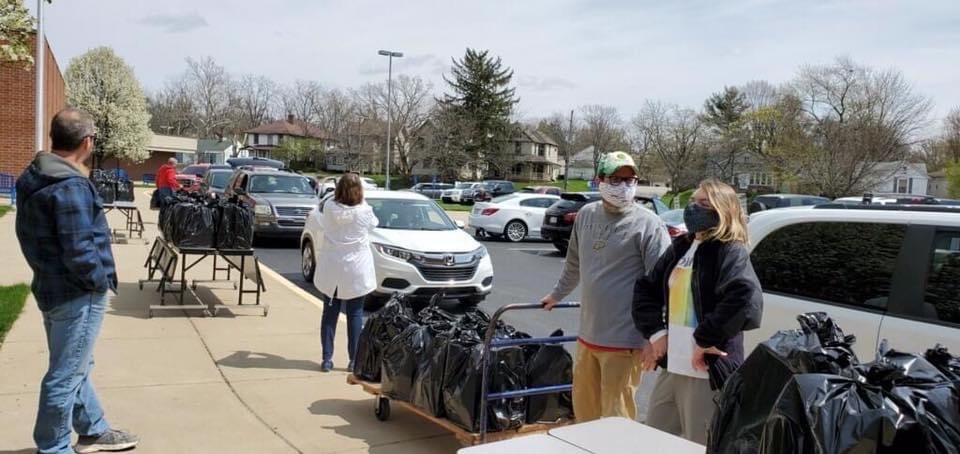 I've been blessed by the desire of our ECC congregants to serve and to be at this meal each week. Colleen Schornstein cooks all the food with Reba Kinder filling in once a month. Reba and Fran Nance work with Colleen weekly to get the food prepped and ready for the meal. They are such a blessing and are so humble about what they do. Between 20 and 33 volunteers have helped each week with various aspects of getting the meal distributed. Each person wears a mask, and we try to abide by the 6 foot distancing rule with those outside of our families. It looks like we will need to continue to serve in this fashion throughout summer 2020.
Over the past weeks, we have partnered with Miller School to deliver 200 bags of food every 2 weeks as a part of the Backpack Program that we are a part of during the school year. Miller staff and ECC volunteers deliver the bags to the homes of families in need as determined by principals Deb Patterson and Greg Louk. Eight ECC couples/families have regularly been involved in this effort.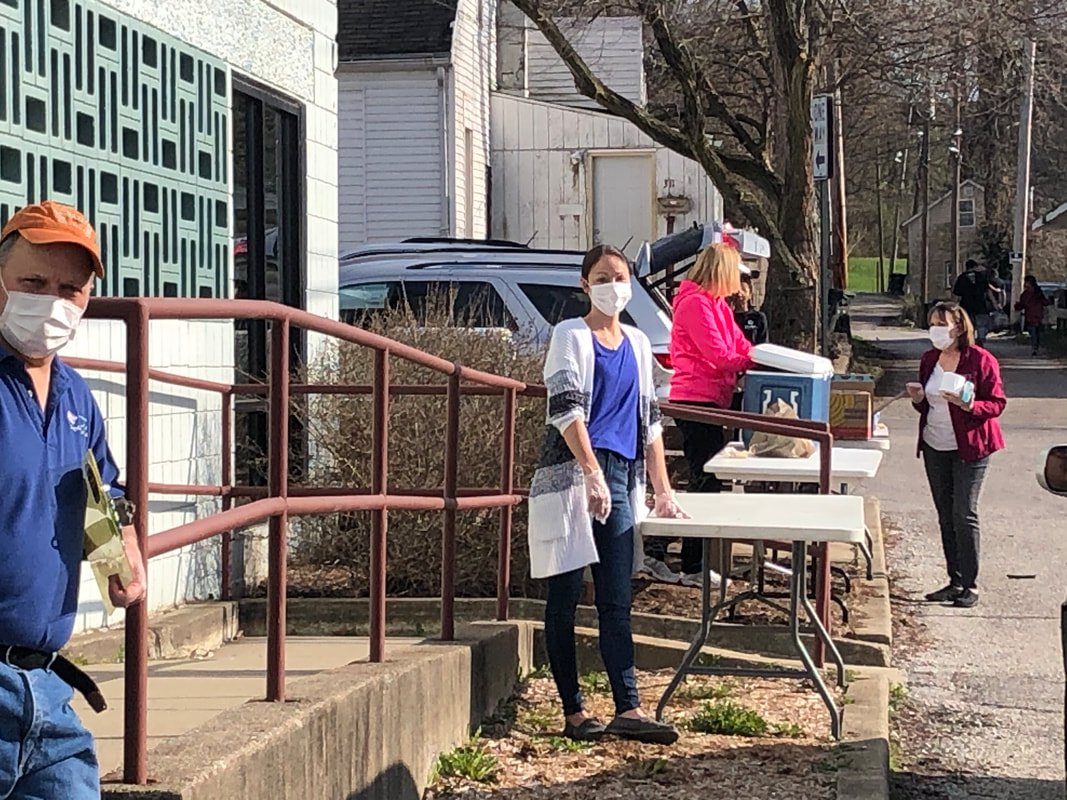 This year we have decided to continue the backpack program throughout the summer because of the economic situation that many of "our families" are in. Because this is outside of the school year, ECC will need to come up with the funds to pay for the food that we will give out. If you would be interested in helping to fund this effort we ask that your donation would be above your regular tithe. Checks can be made out to ECC with Community Outreach in the memo portion.
Outreach statistics since the stay at home orders began:
1,000 bags of food have been distributed to Miller families in partnership with Miller staff.
We have served over 2,000 takeout meals during our Thursday night dinners.
We are caring for our 23 Afterschool JAM children (representing 11 families and 40 plus children) by sending little care packages each week and keeping in touch with each parent to see how we can help them.
Panera via Food Finders donated 1,200 lunches between April 23 and May 6. We partnered with Bauer and Miller to distribute the lunches to families that needed them each week.
Please pray for these areas within our Community Outreach
That God will continue to show us what He wants us to do
That His hand will be upon our families as many have lost jobs and as they adjust to their new normal
That we will all keep safe as we serve
That as we wait to see what the Fall holds for the school that we don't get anxious and that we are open to how God might use us in a new way.
That we will have the finances available to continue the food backpack program throughout the summer months
​How Can You Help
Pray for us
Help financially
Let us know you'd be willing to be on a list to be a substitute on Thursday evening for our meal or be a sub to help deliver food periodically over the summer
Bake cookies once a month to pass out to families
We have several families that need mattresses and couches. If you have something in good condition that you would like to donate, please contact the church office.
It never ceases to amaze me how God takes a situation and uses it to bring glory to himself. As we maneuver through this season of the unknown, let's look to see where God is at work. I can tell you that God is there on Thursday evenings when we distribute meals. He's there when we deliver bags of food to Miller families. He's there when I contact our Afterschool JAM families. It's nothing like what we thought we'd be doing this Spring, but in typical God fashion, "We know that in all things, God works for the good of those who love Him, who are called according to His purpose." Romans 8:28 He can do amazing things in situations that have us grasping for control. Thank you God for guiding and caring for us in this time of the unknown.