We live in a world that values more – more accomplishments, more activities, more acquisitions, more ______ (fill in the blank). All this push for more infiltrates our schedules, our thoughts, and our lives. So much so, that many of us begin to wear "busy" as a badge of honor, or we find ourselves feeling 'less than' when our schedules aren't full.
What about you? Have you ever found yourself longing for more? Have you found yourself longing for different? What if your longing for more is really a longing for less? What if it is a longing for a different pace? What if it is a longing for a "pause"?
Pause, by definition, is a temporary stop or rest, especially in speech or action. It is synonymous with breathe, catch one's breath, rest, take a breather. A pause can be passive (I let go, I'm still, I stop, I breathe out) or active (I'm conscious in this moment, I am attentive, I breathe in).
Most of us are still learning - not only how to pause wisely, but also the value of pause. Wherever we are on the spectrum of busy, there is an invitation to learn to pause well.
The good news is that everyone, including you, can pause. With Jesus, we can pause in the middle of busy or not busy, in relationships or loneliness, in grief or joy… We can discover what it looks like for us to "be still, and know that I am God" (Psalm 46:10) in the midst of real life.
Recently, "real life" for me has held some pretty weighty things - circumstances pressing in for my attention - a perfect storm of events taxing my emotional, my physical, and even my spiritual energy. A good friend asked me, "What do you need?" When I struggled to answer, she pressed a bit further with another question. "What popped into your mind when I first asked?" She knows me well and knew I had discounted an answer. I sheepishly admitted, "I'd like a month at the beach. Alone." And while that isn't truly possible, we looked beneath my answer to uncover a longing for space, for solitude, for uninterrupted time with God. That revelation was the incentive I needed to become even more intentional about meeting with God alone within the context of the circumstances of my life. It began to look like a few hours here and a few hours there, growing to a day a week (most weeks). Then one day it dawned on me – this sounds like "sabbath!" I'm sure God was smiling as I caught on to His invitation. Sabbath is sacred time God set apart at creation. Years ago I heard Sabbath defined as "a space of time allotted for ceasing from production in exchange for engaging in enjoyment with God." This was the more I was needing.
Genesis 2:3 (The Voice) tells us, "Thus God blessed day seven and made it special—an open time for pause and restoration, a sacred zone of Sabbath-keeping, because God rested from all the work He had done in creation that day."
Do you see the beauty of this passage accentuated in this version? Sabbath rest equated with pause. I believe God is inviting us to pause.
What does pause look like? The beauty of God's invitation to pause is that it looks different for each of us. For me, sometimes it looks like taking a walk. Sometimes it's taking a nap. Other times it is simply slowing down and breathing deeply. Occasionally, it's staring at the lake or snuggling a baby. It has also been praying, reading a book, spending time with a friend.
What does it look like for you? What could it look like for you to prioritize a "pause" in your life? I would love to hear what God does as you change your pace and pause.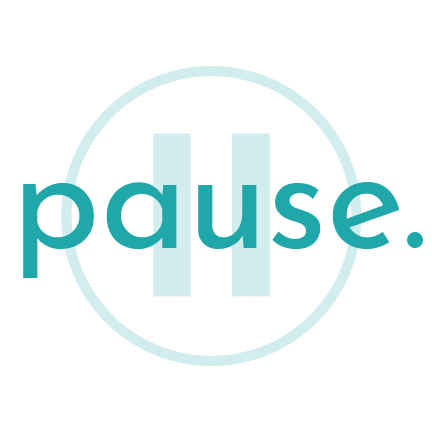 Ladies – In a world that is fast-paced and full, we invite you to PAUSE to connect with God and other women at our annual women's retreat, November 1-3. This weekend retreat is designed to create space for you to change your pace and explore ways to pause with Jesus in the midst of real life circumstances.
This retreat can be whatever you need it to be. If you need solitude and quiet, you can find solitude. If you need fun, you can find fun. If you need connection and to meet new people, that can happen for you. If you need worship or desire to be closer to God or maybe get some clarity about something in your life or want some good biblical teaching, God can and will do that for you at this retreat.
So, I am asking you, ladies, to really consider it. Think about it. Pray about it. Don't immediately write it off that you're too busy or that this is a place for others, but not you. Don't assume you can't get away for a weekend (you can!). Invite your girlfriend, sister, mom, daughter, or co-worker so you can have "your person" with you. Or come – maybe you will make a new friend - I did at my first ECC retreat!