I continue to be in awe of our teens at ECC. I step back and look at what they experience today, and I am impressed by their response. I watch them see a need and look in themselves to what God has gifted them with and say "I can do something about this." Nathan Park is one example of what it means to act in accordance to the Gospel and use his gifts to make a difference in the world!
Let me tell you a little about Nathan. He is a freshman at West Lafayette High School. He works hard and has a great attitude about life. Like many people his age, he sees the world around him and found that it is not always fair. His response to the unfairness of the world was to join a group this year called CaptioTech, a non-profit organization founded and run by West Lafayette High School students. CaptioTech is dedicated to making sure all students have a computer at home to complete their homework. They take unwanted computers, return them to factory mode and set them up for use of students. It's incredible to me to see that young people see a need in the world and use their gifts to help others have an equal place in life. Nathan is the Vice President of Advertising and Marketing for CaptioTech.
"Do not withhold good from those to whom it is due, when it is in your power to act.
Do not say to your neighbor, 'Come back tomorrow and I'll give it to you'—
when you already have it with you."
​Proverbs 3:27-28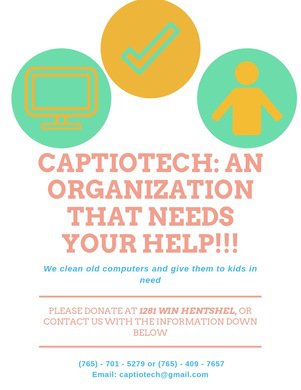 Nathan and his friends acted in their power. They saw a need and did not wait for others to fill the need; rather they found a way to use what they already had - that God had given them to act. We could learn something from Nathan and the rest of the CaptioTech group - when we see a need, to act with what God has already given us.
​
CaptioTech would like to invite you to participate in this amazing service. If you have an old computer sitting around that you no longer use, they will take what is no longer needed in your home and make it useful for student. Don't have a computer? They are taking donations for parts needed to make fix the computers.
Contact them at captiotech@gmail.com, and check out the WLFI report from last year about the founder Ava Hallberg.