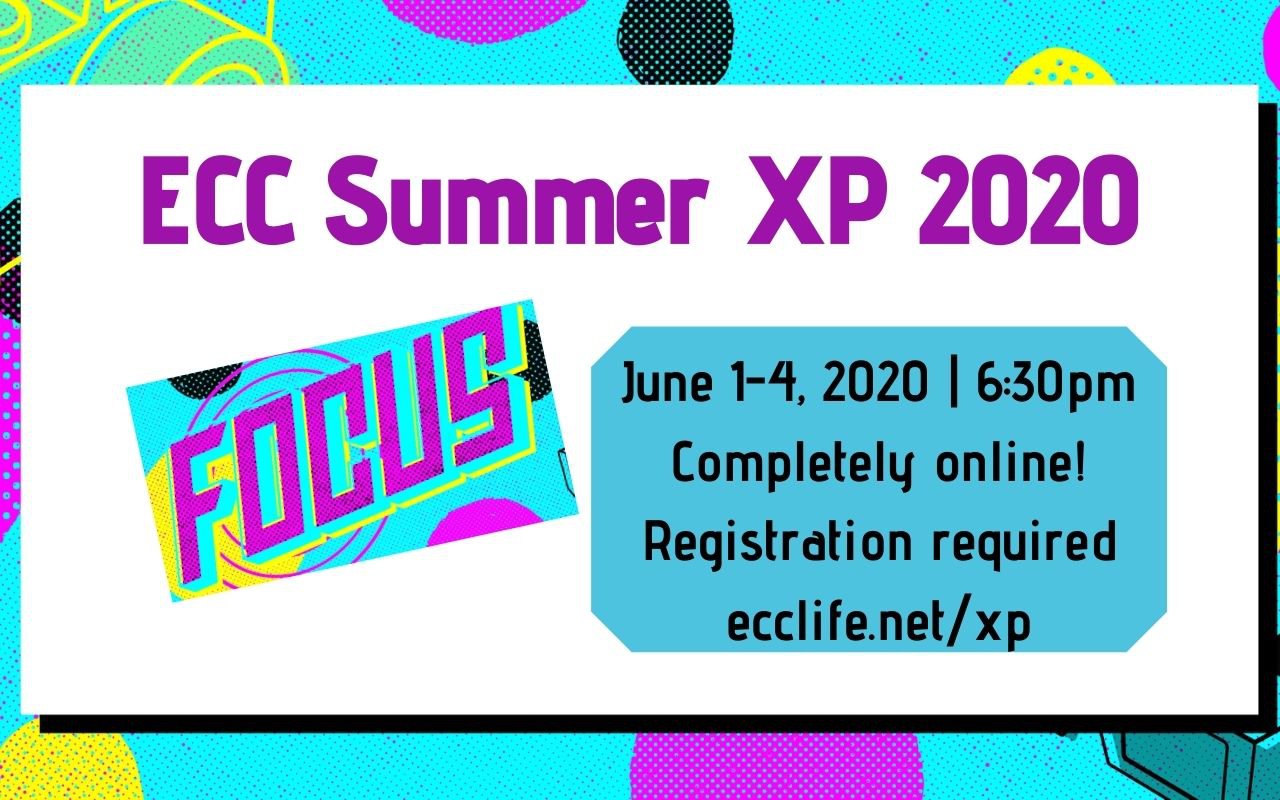 When I was in the process of joining you all at ECC as Children's Ministry Director, I had the opportunity to come to Lafayette and visit the week of Summer XP at Miller Elementary School. I visited for just 2 of the 5 nights, but I was amazed at the energy, the excitement, the fun, and the love for Christ and Christ's kids that were so evident on those days! Then, this April, when the governor announced that Indiana schools would not return in person for the end of the school year, it became pretty obvious that we weren't going to be able to gather at Miller in person for Summer XP during the first week of June.
We had a few options – cancel completely (many churches have decided to do this), try and postpone, or develop a new model of how to do Summer XP in 2020. As a small group of dedicated volunteers gathered on Zoom, I saw the same heart that I first saw when I visited Summer XP – we have a dedicated team who want the children in Lafayette to have a safe, fun, exciting place to get to know God deeper and to get to experience God's great love for them. Out of this passion, a new way to do Summer XP began!
We won't gather in person, but we will still be reaching out to children in Lafayette and inviting them to join us online for this year's Summer XP. Children from ECC, from Miller Elementary School, from Bauer Community Center, from Lafayette, and even friends around the country who've moved away – will all gather together to "Focus" on God and His amazing plan for us! We'll spend 3 days diving into Bible lessons that help us see God in creation, hear God's Word to us, and talk to God about our needs in prayer. On day 4 we'll celebrate all that we've learned and challenge kids to live for God by loving others in their family, their neighborhood, and their world!
Yes, there are lots of details we need to sort out, but we're going to be using paper mailings, video technology, secure online chat rooms, and doorstep deliveries to spread the fun, excitement, and love of Christ through this year's Summer XP! There are many ways for our ECC family to get involved, and we'd love to have our church body participate. You can help prepare materials ahead of time, be a part of our online videos, or deliver packages to the doorsteps of our participants. You can lead or assist with a small group of students as they get to know each other and grow deeper in their relationship with God.
An important part of each Summer XP has been the meal we serve to families in the Miller and Bauer neighborhood. It's our hope that we will still be able to offer these meals, following the model that Ronda Ooms and our Outreach Ministry team have set up for Thursday meals at Bauer. Families will be able to drive-through and pick up dinners each night, Monday through Thursday. They can then take their meals home, and kids will be able to join in the Summer XP events online at 6:30 that same night.
We will need many, many hands to serve these meals each evening, and this is another way that you can be involved with the ministry of Summer XP! While you won't be sitting down and sharing a meal in person with a Lafayette neighbor, you still have the opportunity to share a meal through a car window and greet people with the love of Christ each night.
Since we will be hosting Summer XP online, registering kids before the week starts will be extremely important. We'll need to communicate to families and get them set up for our online programs and meetings. If you have a child who would like to participate, or if you know a child you'd like to invite, please have them register online so we know that they will be joining us. Summer XP is open to children who will be entering Kindergarten through 5th grade in the fall of 2020.
If you'd like to be a part of this exciting adventure with us at our first online Summer XP, you can find more information at https://www.ecclife.net/xp. You'll find links for both volunteer registration and student registration on this page.
​
Please pray with us that we'll keep listening for and following the direction of God's Holy Spirit. Pray that God will use this new Summer XP format to bring children into relationship with him, to deepen the faith of those who follow him, and to impact our community in ways that bring people face to face with God's great love for them!