We have all had to pivot in this season. We have worked from home, schooled from home, and canceled events left and right. In the midst of the all that, we have had to reimagine the Young Adult Retreat, originally designed as a one weekend get-away, to learn how we are created uniquely and with a purpose. While so many events were canceled, many went online. And so we decided to attempt an online cohort instead of a retreat.
Nine young adults, ages 17-21, participated in a Young Adult Cohort online for four weeks. April Diaz and I coached these young adults during a pandemic, activism and division over racial injustice, and their whole worlds looking different than they could have ever imagined. Many older adults who have gone through a lot in life were having a hard time and here are 9 young adults having to navigate the unknown with people who have never had to navigate it either. We asked a lot of them: to be present, to be vulnerable, and to participate fully. AND THEY SHOWED UP! They dug deep in a short time and I was energized by them.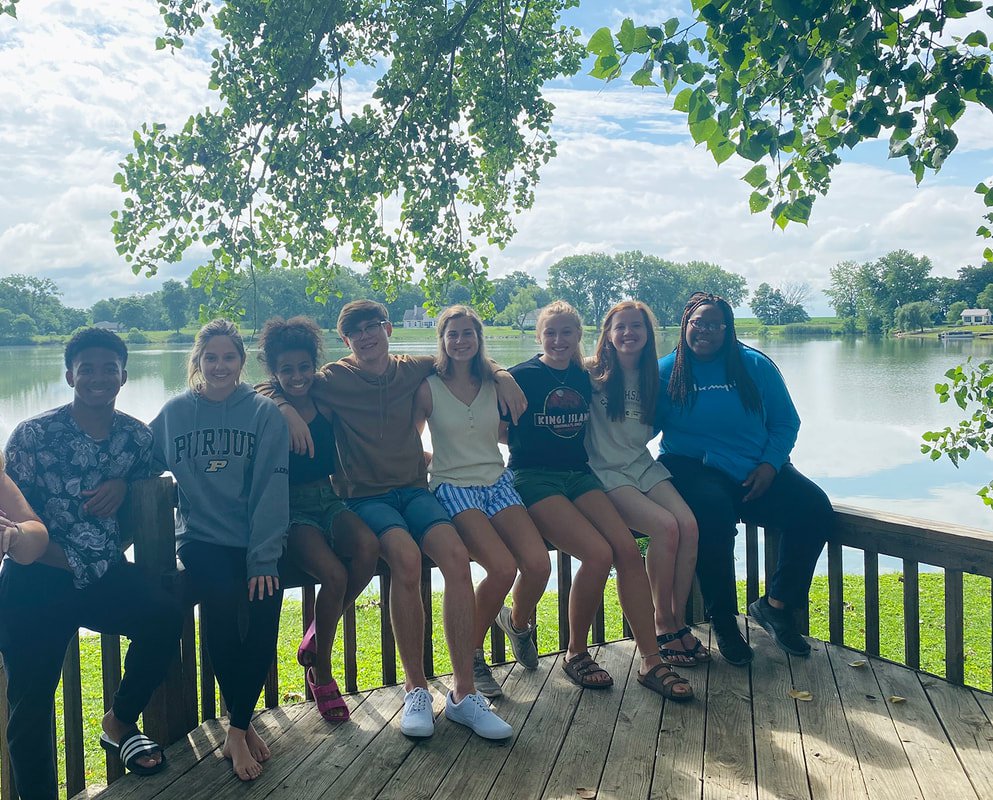 You might be asking what is a cohort? Well, that was the question the young adults were asking as well. I am not sure how many knew what they signed up for when saying yes.
The Cohort was based on a coaching model. Coaching is being honest about where you are and where you want to go. Each young adult wrote their own mandate based on what they wanted to have accomplished in the 6 weeks from start to finish. They were creative and dreamed big. We had everything from wanting to write a song to complete all the tasks needed to start school in the fall.
We ended our time with the retreat we originally planned but it looked much differently than anything we could have imagined at the beginning of the process of dreaming up what we could do for and with our young adults. What would have been a jam-packed weekend, we transformed into a celebration and relaxing time.
It is not often we choose to get away with people who are not our family and without a ton of stuff planned. The option to go on the lake, sleep in, stay up late was left up to the individual. On an early morning kayak trip around the lake, a young adult said to me "I feel really loved by God right now." It was not because we were answering Bible questions in a study or doing a "spiritual" thing but because we were connected to a part of God's creation at that moment. So much of what the Bible describes life as is through water. That morning, God was visible. This is what it means to connect with God and to know God.
The weekend was filled with tears, laughter, rest, and recovery. But if I could tell you one thing about our time, it would be this: these young people gave me hope and energy for our future.
They care deeply.
They think deeply.
And they are willing to be vulnerable and present and dream about a future that seems unsure.
We could all do well to learn from them. Learn to care for the "others" and care for each other. Learn to take ownership and inventory of your lives to be a more whole version of yourselves. When we listen to our young peoples' hearts, their hurts, and their perspectives, they benefit, but just as important, we ALL benefit. I could not be more excited about what is to come for these individuals! I invite you to do what they have done over the last couple months.
Become vulnerable.
Be present.
Be participants in your own life.
God has created you; the way you look, the way you laugh, the way you experience this world. He knows the direction your hair grows and the things that make you angry and what gives you great joy.