I ask that Christ will live in your hearts through faith. As a result of having strong roots in love, I ask that you'll have the power to grasp love's width and length, height and depth, together with all believers. I ask that you'll know the love of Christ that is beyond knowledge so that you will be filled entirely with the fullness of God. ~ Ephesians 3.17-19, Common English Bible
"No words. No words... can describe it. Poetry! They should have sent a poet." (Dr. Ellie Arroway, Contact)
When my wife Kim remarked to her spiritual director, Karen, that one of our first stops in my sabbatical was Sedona, Arizona, Karen responded that Sedona was beautiful, but remember "it's only a teaser of what is to come". She was not wrong. With every national park we visited, every canyon we explored, the beauty only deepened. You would think that once you've seen one canyon, you've seen them all.
But you would be wrong.
One of the key things we hoped to explore during the sabbatical was the beauty of God's creation, believing that seeing this, contemplating it, reflecting on it would enable us to grow in our worship of the God who is in and through all things (Ephesians 4.6) and holds them all together with his powerful word (Colossians 1.17; Hebrews 1.3).
The late Catholic activist, Dorothy Day, wrote that much of her early journey back to faith happened as she spent time in nature, taking it in, breathing it in. She said that this was "a new experience for me, one which brought me to life, and filled me with joy."
Reflecting on Day's return to faith, Richard Foster writes of her experiences of nature, "This love of all things natural awakened in Dorothy yearnings for all things eternal. She was happy, blissful. And out of sheer joy, she began praying once again--praying her gratitude and thanksgiving..." (Foster, Streams of Living Water, p.159)
Kim and I found this to be true, too. The beauty of God's good creation spoke to us; it taught us something of God's nature that, to some degree we already knew, but it took it deeper into our souls. Time in God's good creation enabled us to experience what we already knew of God in a new way.
On the day we arrived at the southern rim of the Grand Canyon, we got there too early to check in. But, since we had our bikes on the back of the car, we decided to go for an early afternoon ride. We hopped on our bikes and took a trail that led us to the rim. If you've never been to the Grand Canyon, when you enter the park on the southern rim, you do not immediately see the canyon. You find yourself in a forest. So, as of yet, we had not seen anything of the canyon, itself.
Kim and I looked at the map, identified the bike trail, but noted that when we got to the rim, we would need to turn to the right rather than the left. The left trail was for pedestrians only. As we arrived at the intersection of the two trails, I didn't immediately notice the canyon itself. I was too busy focusing on turning in the correct direction and avoiding other hikers and bikers.
As we turned, however, Kim frantically tried to get my attention. "Stacey! Stacey! Look!", she said. I turned my head to the left and was stunned. The rim of the canyon was right there, not 30 feet away. And it was immense!
Now, I have seen the Grand Canyon on television, in photographs, and movies, so I was not expecting too much, to be honest. But, as they say, no video, no photograph does it justice--to say nothing of a paltry description from me!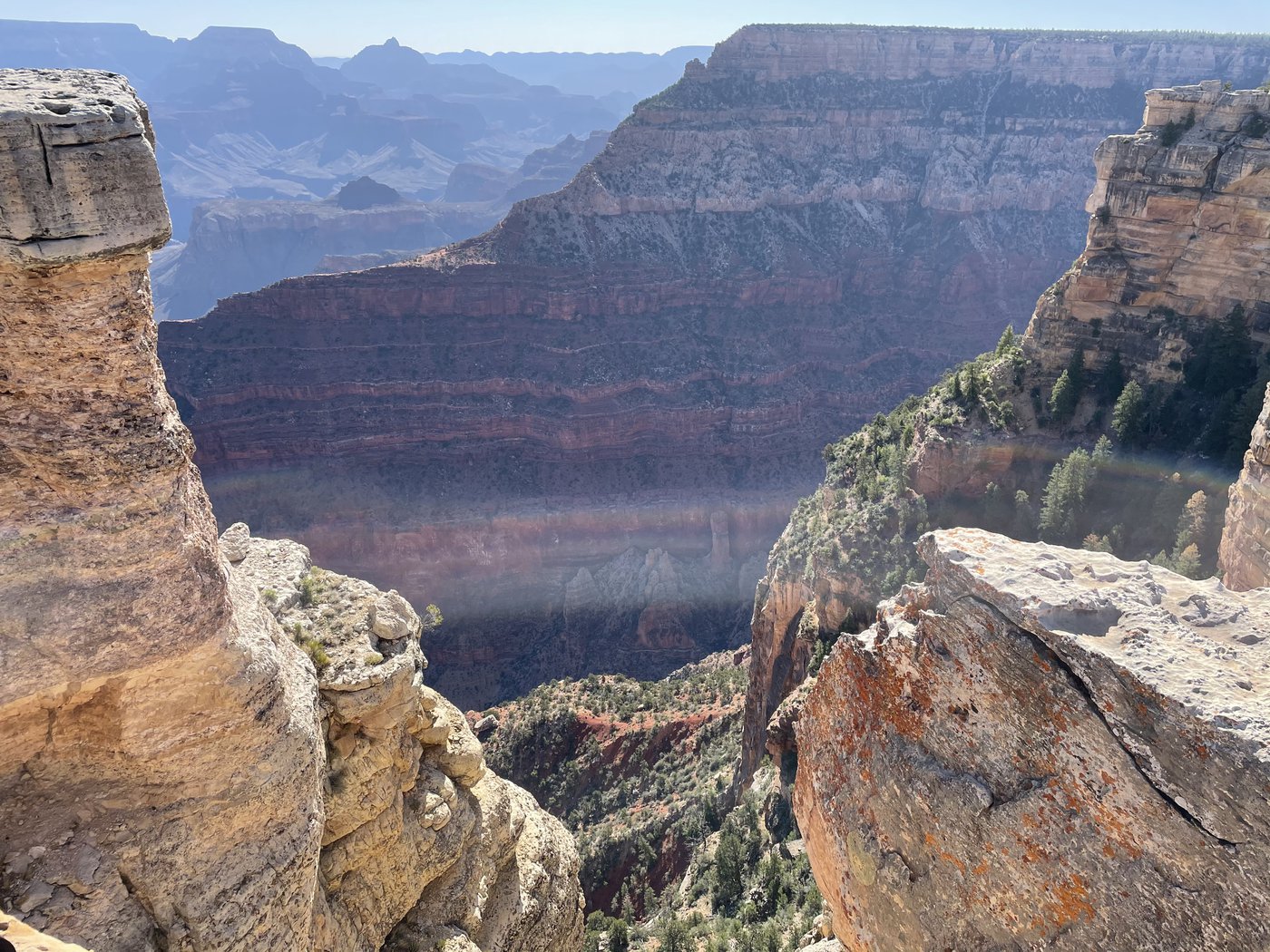 I. Had. No. Idea.
We pulled our bikes over and just stared. My mouth dropped open. My eyes may have been a little wet. It was beautiful, powerful, soul-impacting. Words fail me. I am reminded of the scene in the film, Contact, when Dr. Ellie Arroway, played by Jodie Foster, first comes through a wormhole and witnesses a part of the cosmos no human being has ever seen. "No words," she says. "No words... can describe it. Poetry! They should have sent a poet. So beautiful. Beautiful."
Taking in the natural beauty of the Grand Canyon that day, and so many sights after that, was a gateway to things eternal, I think. At least, that was our experience. We got a sense of how deep and wide and long and high the love of God is.
But this is only part of what God did in me while I was away on sabbatical. God has begun a deeper work in me that I want to begin to share with you. In reflecting on the cosmos and God's place in it, and in a deeper dive into scripture and prayer with the Spiritual Exercises of St. Ignatius of Loyola, God has done things in me that I want to share with you, and that I believe God will use to lead all of us to a new place, to deeper waters in our love of God. Or, as Paul put it in the passage above (Ephesians 3.17-19), that we will all "know the love of Christ that is beyond knowledge so that [we] will be filled entirely with the fullness of God."
To that end, I invite you to join us on Sunday, August 29, as I begin to share with you some of what God has been showing me in the past year, as well as during my sabbatical. If you would like to prepare a bit in advance, I invite you to pray through and reflect on Luke 5.1-11.
I hope you can join us, online or in-person, Sunday, August 29!