On April 30, our 1935 Young Adult ministry hosted a "Mystery Dinner" at the Life Center. If you've never experienced one, a mystery dinner is a fun event where everyone is invited to play a role in a story that develops throughout the dinner. The participants come knowing just enough about their character to dress in costume and play the part from the moment they walk in the door, but they are then tasked with solving a mystery based on the scripted story that unfolds throughout the night. This was originally going to be an exclusive event for those ages 19 to 35, but when we had extra spots, we opened it up to a few LifeGroups that were primarily young families and we filled up quickly. A total of 21 people played a role in this Mystery dinner, and that doesn't include the 19 kids, 5 childcare helpers, and 3 kitchen hosts for the night. All together, it was a great night had by all! Here's a little sneak peak into how it all went down (including pictures!):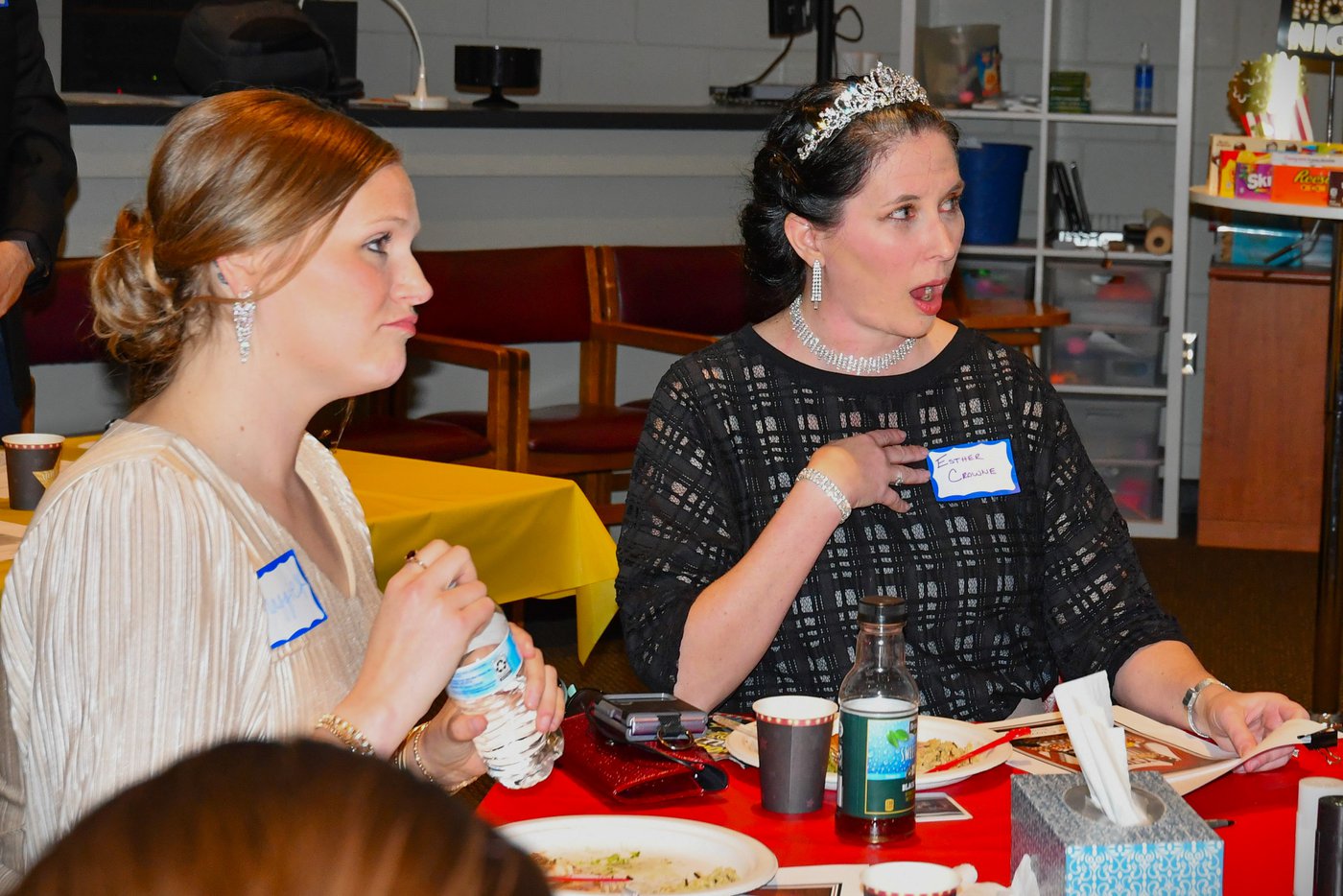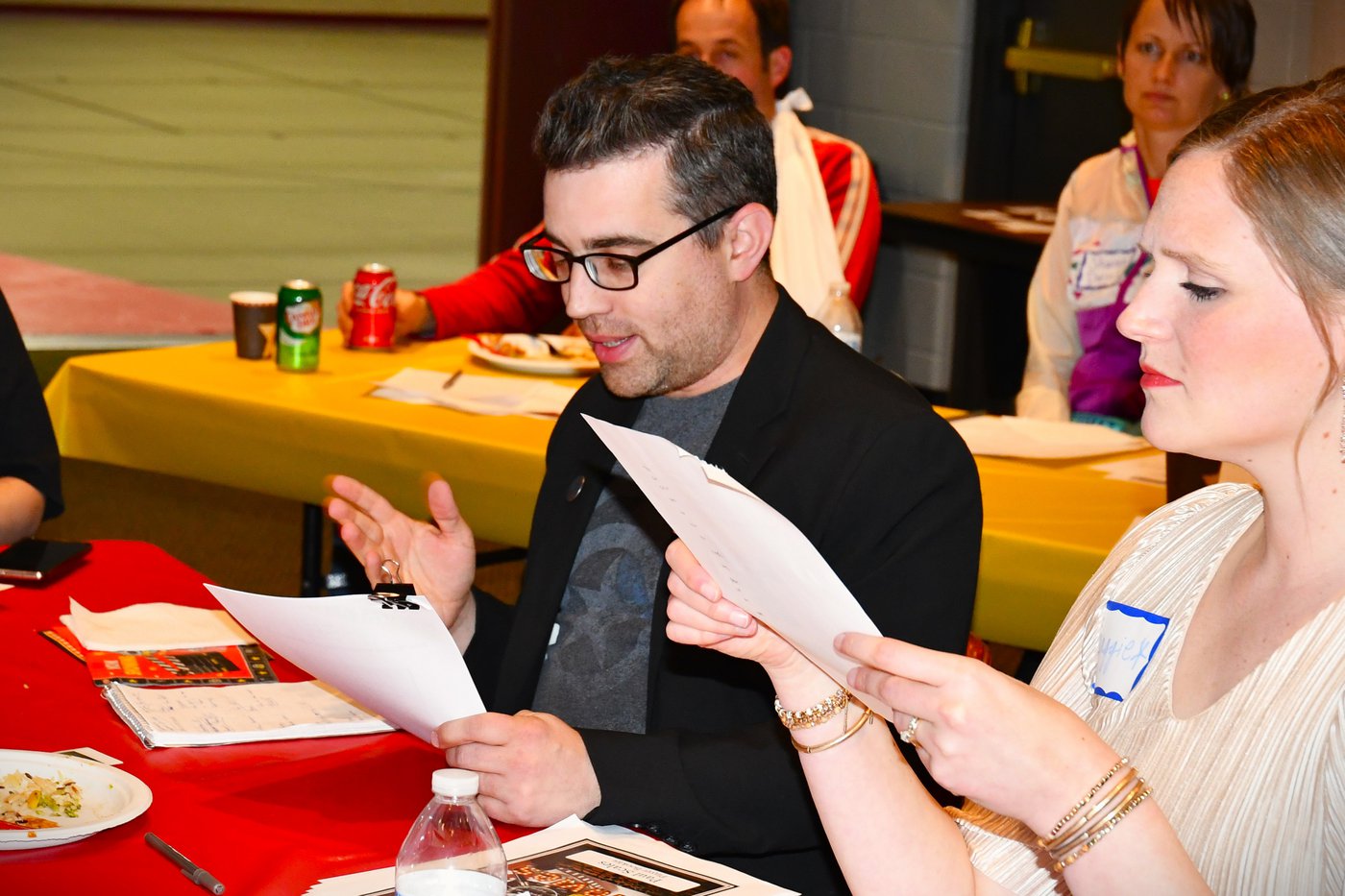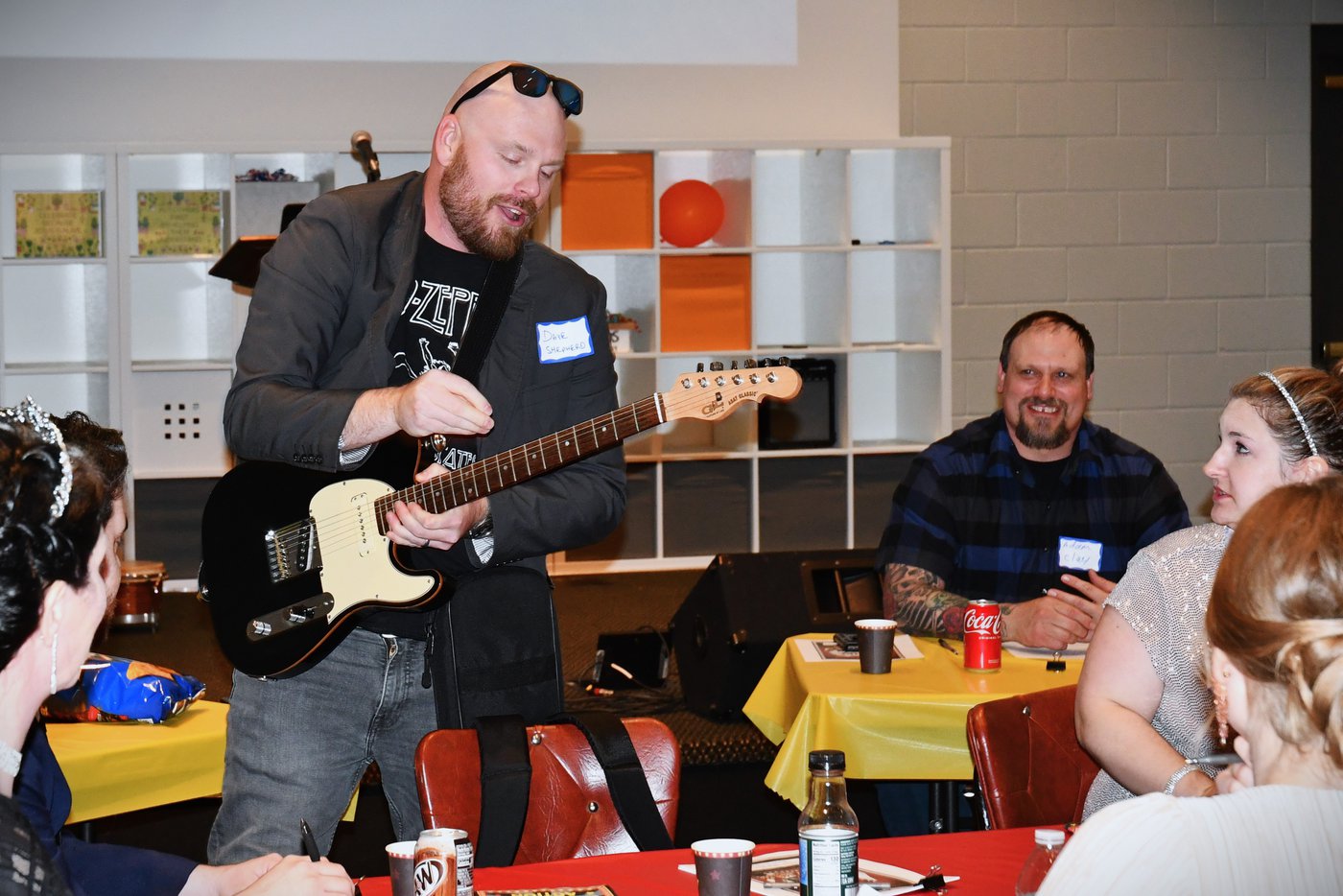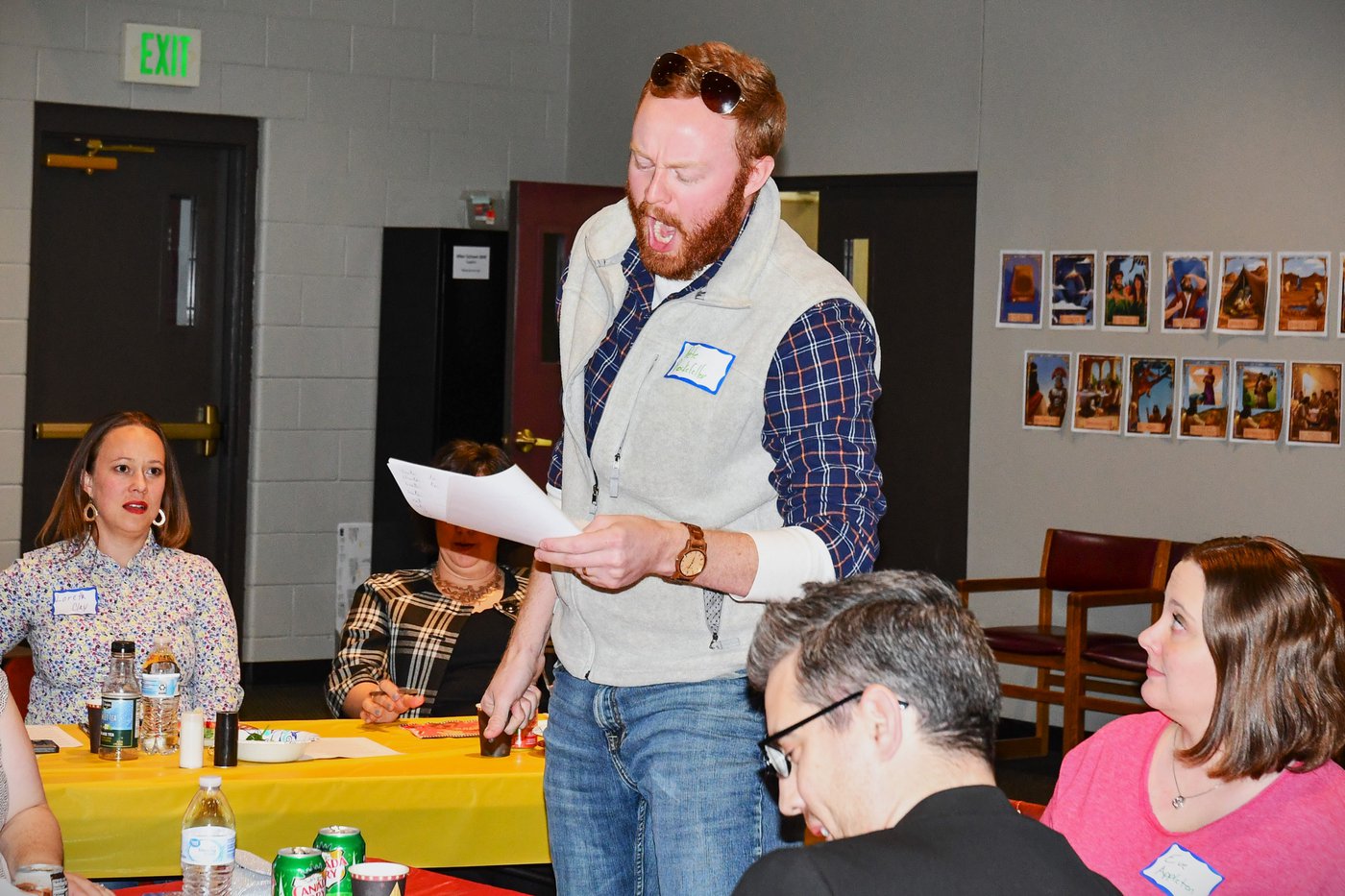 I (Pastor Chuck) worked with Janet Van Buskirk and Courtney FitzSimons to prepare the materials, plan the meal, and decorate the Life Center. Unfortunately, just a few days before the dinner, Janet became ill and passed along her tasks. We are SO grateful for the work and effort she put into planning and gathering materials though, as well as, putting together a team of kitchen hosts consisting of Sue Zwyers, and Bob and Judy Yost. They were fantastic hosts! The dinner was a 4-course meal: We had a variety of savory pastry puffs, fruit, and chips for an appetizer, followed by a mini-salad bar. The entrée course consisted of smokey baked chicken tenders, basil and herb long-grain wild rice, and roasted vegetables, followed by a variety of delicious homemade desserts!
The theme and story for the night was a movie premiere of a fake blockbuster movie called "Packman 9: Turbo Tundra". The premise was that we were all a part of the movie's production in some way and were gathering together for a dinner and the premiere screening of the movie. But when we began the night, we received news that the lead actor, Ransom I. Packer, had been kidnapped and was being held at ransom (hence the name… Ransom 😉). Eight of the 21 guests were considered prime suspects, and throughout the evening we heard conversations between these characters that presented clues as to who may have been involved in the kidnapping.
Throughout the night, surprise information from many of the characters was revealed, along with lots of ad-lib questions and answers. In the end, we all voted for who we thought the culprit was. No spoilers, but I will say that we surprised everyone at the end with a video of the big reveal ending that contained a cameo from Pastor Stacey (via video as "CIA agent Ron Callahan"). Those that guessed right in the end got to split an assortment of "movie theater" style candy. We also voted for "best of" at the end of the night: Danielle Clark won best costume as "Queen Esther Crowne", while Nick Rambo won best acting as "Dave Shepherd".
All-in-all, this night was all about community and building relationships through a fun dinner and entertainment. We shared lots of laughs and got to see the goofy and fun side of one another as we all played our parts and shared in the story together. Thank you again to all who helped make the night possible, especially the 5 childcare workers who played with all the kids throughout the dinner!
And if you're wondering why I didn't share details on who the culprit was, it's because we own this "mystery dinner" kit and I want to make it available! If your LifeGroup, or maybe even a few LifeGroups wanted to come together and do this fun Mystery Dinner experience together, please come and see me and I'll help you get it set up!