I hope you will join us Tuesday, November 26 at 7:00pm for our annual Harvest Ingathering worship service. It is always a meaningful evening of worship, thanksgiving, sharing testimonies, and bonding in fellowship. Part of our worship will be to collect a thanksgiving offering for Covenant World Relief.
For more than 60 years, Covenant World Relief (CWR) has been the Evangelical Covenant Church's response to human suffering and injustice in the world. Through local partnerships, CWR invests in community development and responds to global disasters. CWR's mission is to join God in loving, serving, and working together with the poor, the powerless and the marginalized. They seek the following values in our global partnerships. They seek to demonstrate the good news of Jesus Christ in word and deed. The belief is that the church is at its best when it holistically serves the most vulnerable—spiritually, physically, economically, intellectually, socially, and emotionally.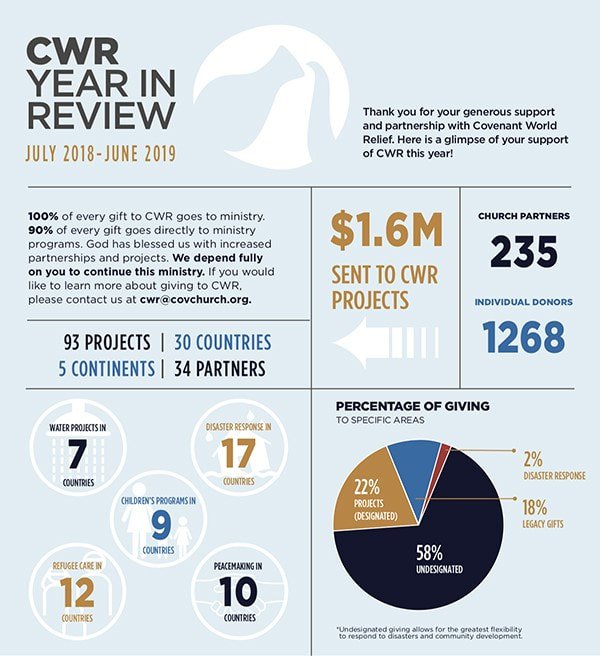 They do so by partnering with established local organizations, relying on their expertise, experience, and networks. As a ministry of the ECC, CWRs prioritizes Covenant connected relationships. They affirm an asset based relief and development model that prioritizes local resources—human, relational, material, and financial. This way the community and its leaders are equipped and empowered to carry out programs that are locally initiated and led, working with, rather than for, the community.
CWR strives for comprehensive and sustainable development that leads to holistic transformation, valuing the quality of impact more than the quantity of people impacted. CWRs believes that all people are made in God's image and are worthy of being treated with dignity and respect and they work to address the root causes of injustice through reconciliation, peacemaking, solidarity, and advocacy.
Jesus said in Mathew 25:31-46 that whenever we reach out and touch another hurting person in His name, we do it to Him. I invite you all to be a partner in this vital ministry through the giving opportunities as part of our Harvest Ingathering service.
​