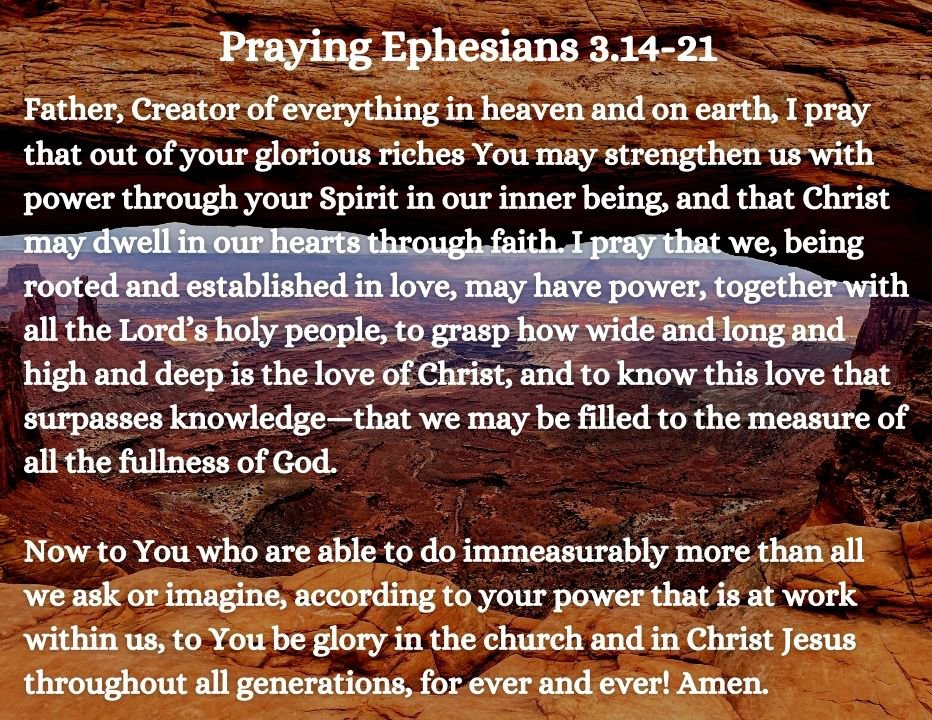 On Sunday, September 19, our passage for the morning was Ephesians 3.14-21. That passage is the Apostle Paul's heartfelt prayer for the people of the church in Ephesus 1) to be strengthened in their inner beings by God's Spirit, 2) that Christ will dwell within their hearts and "make himself at home" there, and 3) that they may have the power to comprehend the immensity of God's love and to know this love that surpasses knowledge. It was a bold and energizing prayer! You can view or listen to that sermon here.
I shared with you the story of DL Moody's experience of the power and goodness of God. In 1871, some of his congregants had concluded that Moody needed a greater experience of God's power, so they began to pray for him—unbeknownst to him. About three months later, Moody had a profound experience of God's power and presence. It was so powerful, in fact, that Moody said he had to ask God "to stay his hand." After that experience, Moody's ministry bore more fruit. He said his preaching did not really change, but "hundreds were converted."
The title of our current series is Deeper Water, which is meant to be a metaphor for our transformation, a pathway toward a greater experience of all that God has for us in Christ. Abundant life!
My invitation on Sunday was that we commit to pray the prayer from Ephesians 3 over ECC's congregants and leadership for three months. Could you commit to one day a week, or two? Could you commit to every day for the next three months? That would take us up to the week before Christmas, and God could use it to prepare us for a New Year of ministry and mission.
This is an invitation for you to do what you can, not what you can't, and I would love it if you could join with us in this.
You can find the prayer we are praying and other prayer resources on our Prayer Practices page at ecclife.net.
I hope you are up for the challenge! And I look forward to seeing how God will answer our prayers. I'll close with the last few lines of our passage. Let them remind us of the goodness, power, and love of God, and of his desire to take us to deeper water and a greater experience of life in the kingdom of God.
Now to him who is able to do immeasurably more than all we ask or imagine, according to his power that is at work within us, to him be glory in the church and in Christ Jesus throughout all generations, for ever and ever! Amen. (Ephesians 3.20-21, NIV)