In August I had the privilege of taking a three-day journey, called Sankofa, with some of my brothers and sisters of the Evangelical Covenant Church (Covenant) to understand the role of race in the history of our country.
Sankofa is a word in the Twi language of Ghana that translates to "Go back and get it" (san - to return; ko - to go; fa - to fetch, to seek and take) and also refers to the Asante Adinkra symbol represented by a bird with its head turned backwards while its feet face forward carrying a precious egg in its mouth. The word sankofa is often associated with the proverb, "Se wo were fi na wosankofa a yenkyi," which translates as: "It is not wrong to go back for that which you have forgotten."
The Covenant has been offering their Sankofa trip for over 20 years and it has been a trip that I have wanted to take for the last ten years. This year, I was finally able to do it. The Covenant's Sankofa trip traces the history of race in America, and tangibly equips believers to begin living into the church's mission to be ambassadors of reconciliation. The Sankofa trip accomplishes this by exploring historic sites of the Civil Rights Movement, connecting the freedom struggle of the past, to our present realities.
This trip was an interactive, spiritual formation, pilgrimage that has further equipped me to pursue racial righteousness inside and outside our church. I met the group in Chicago on Tuesday August 13 for our initial gathering and greeting. We boarded a bus in the evening and traveled through the night to Birmingham, Alabama. On Wednesday morning we arrived in Birmingham to have breakfast at the Magic City Grill where we met Minister Jean. Minister Jean was a wonderful woman of God who marched as a child with Martin Luther King Jr.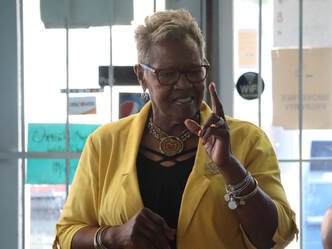 ​Minister Jean told about her story of growing up in the south during the civil rights movement. When we left Magic City Grill I gave Minister Jean a hug, thanking her for her ministry and witness. She whispered in my ear something about finding my voice and using it. This was a powerful word from Minister Jean; she was encouraging me to find my voice and speak up. I believe this was a word from God about who He has called me to be. ​
After breakfast, we made our way on the bus over to the 16th Street Baptist Church. This is the site where there was a bombing on September 15, 1963. This bombing was an act of white supremacist terrorism which occurred at the African-American 16th Street Baptist Church in Birmingham, Alabama, on a Sunday when the church was hosting a youth rally. Four black girls were killed and at least 14 others were injured, sparking riots and a national outcry. Those killed in the bombing were 11-year-old Denise McNair and 14-year-olds Carole Robertson, Addie Mae Collins and Cynthia Wesley. It was a sobering experience to walk through this beautiful sanctuary, knowing the dark history that happened there in 1963.
While we were at the 16th Street Baptist Church we met Mister Louis. Mister Louis was also part of the marches in Birmingham, marching alongside Martin Luther King Jr. Mister Louis now works and volunteers at the 16th Street Baptist Church sharing the history and maintaining the property. Mister Louis entertained any questions we had about the history or otherwise. Someone in the group asked him how he felt about the current state of the race conversation in our country. Mister Louis sat down and said he felt discouraged about the ways in which it feels like we have regressed in the fight toward equality and unity. He said he was tired of fighting for racial equality because he had already fought through the marches in the 60's and he felt like he is being asked to do that hard work again.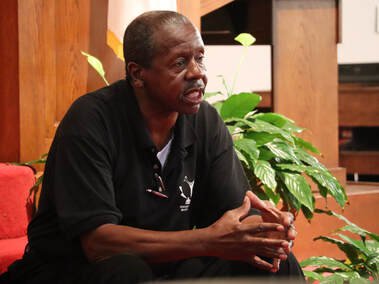 After speaking with Mister Louis, we went across the street from the church to walk through Kelly Ingram Park, a large memorial park telling the history of the marches and the abuse that the marchers faced. Also, across the street from the 16th Street Baptist Church is the Birmingham Civil Rights Institute. We spent time walking through the exhibits at the institute and saw documentation and exhibits of all of the historical movements that took place in Birmingham during the Civil Rights Movement. It was truly painful to walk through the exhibits and see the hatred and cruel actions that were taken against fellow children of God.
In the afternoon we left Birmingham and traveled to Montgomery, Alabama. Montgomery was one of the centers for the trading and selling of slaves. At one time there were many slave auction houses and slave holding centers, almost like prison/warehouses where the slaves were stored between auctions. The conditions of these holding warehouses were not good and many of the slaves would get sick from the extreme temperatures and conditions and even die. When we were in Montgomery we visited one of these warehouses that has been converted into the Legacy Museum.
The Legacy Museum: From Enslavement to Mass Incarceration is situated on a site in Montgomery where enslaved people were once warehoused. A block from one of the most prominent slave auction spaces in America, the Legacy Museum is steps away from an Alabama dock and rail station where tens of thousands of black people were trafficked during the 19th century. In 2018 the Equal Justice Initiative (EJI) transformed this once oppressive site into a rich treasure of history, exploring the history of enslavement and incarceration in America. Also, in Montgomery is the National Memorial for Peace and Justice, the nation's first memorial dedicated to the legacy of enslaved black people, people terrorized by lynching, African Americans humiliated by racial segregation and Jim Crow, and people of color burdened with contemporary presumptions of guilt and police violence. This Memorial is set on a six-acre site, using sculpture, art, and design to contextualize racial terror. The site includes a memorial square with 800 six-foot monuments to symbolize thousands of racial terror lynching victims in the United States and the counties and states where this terrorism took place. EJI has curated one of the best-known resources to learn about the history of racism and terror in America. Not only have they done a massive amount of research and study, they have also brought this rich data to life with these exhibits and placed them all in one of the epicenters of the historic movement.
​
From Montgomery we travel to Selma, Alabama where we stayed in a hotel to rest up for the next day. In the morning we traveled to the Edmund Pettus Bridge which is the site of Bloody Sunday. On March 7, 1965, some 600 civil rights marchers headed east out of Selma on U.S. Route 80. They got only as far as the Edmund Pettus Bridge six blocks away, where state and local lawmen attacked them with billy clubs and tear gas and drove them back into Selma. It was so violent that there was literally blood streaming down the pavement of the bridge. The march was a march for voting rights for all.
We marched over the bridge and it was a very emotional experience, knowing what happened in that exact same spot only some 50 years ago. After marching over the bridge, we travelled to Memphis, Tennessee. In Memphis we visited the National Civil Rights Museum, which is also the Lorraine Motel where Martin Luther King Jr. was assassinated on April 4, 1968. After we explored the Museum and the hotel, we went on a Historical Memphis Bus Tour led by Miss Elaine. Miss Elaine and her sisters grew up in Memphis during the Civil Rights Movement and they were one of the most arrested sibling groups during the civil rights movement because of their involvement in the nonviolent protests. Miss Elaine knew the ins and outs of the history of the Civil Rights Movement in the Memphis area and beyond. On our tour we stopped at Slave Haven, a mansion that was part of the underground railroad. Slave Haven had an underground cellar where slaves could hide until it was safe to venture to the Mississippi River to travel north to escape the south into Canada.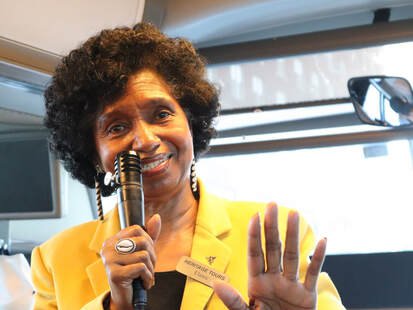 The official part of my Sankofa journey ended with dinner on Beale Street. Beale Street is in Memphis and it was one of the only places that blacks could go to dinner or the theater and enter through the front doors. Most places black people would have to enter through the alley and sit in a separate seating area. On Beale Street black men and women could feel like people and not like second rate citizens.
On Thursday night after dinner on Beale Street we boarded the bus and traveled through the night to a Covenant Church just outside of Chicago for our debrief time. We spent time talking about what we could do when we returned to our churches and how this trip has changed us or emboldened us to take next steps on our journey toward biblical reconciliation.
​
There is so much more I could say about this three-day trip. I would recommend this trip to anyone and everyone. It is eye-opening and life changing. I am still processing this trip and what God is calling me to and what God is calling ECC to. I am praying and discerning. I am confident that God has me here at ECC for a purpose and I am passionate about how we as a faith community can welcome people who look different than we do. I invite you to join me in praying and discerning how God might use our faith community to look back at our history and move forward knowing the truth.